So as you've probably seen by now, my latest novel, Changelings of the Dark Earth: Awakening, is coming out in ebook and paperback format on May 1. This one has taken quite a winding road to get where it is today, so I'll be talking a bit about that story and some of the background behind the book itself in the weeks leading up to the release.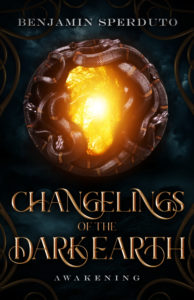 But for now, let's start off with an easy question: What is Changelings of the Dark Earth, exactly?
The book features a completely new world that's unrelated to any of my previous work. Aimed primarily at younger readers (ages 10-15 or so), CotDE is a bit of a genre mash-up that incorporates elements of European faerie folklore with a post-apocalyptic science fiction aesthetic. Just because it was written with a younger audience in mind, however, doesn't mean it won't appeal to readers of all ages. It's a story of loss, friendship, and finding your place in the world, even when that world is filled with scary things that are trying to eat you (or worse).
Originally conceived as a setting for a roleplaying game nearly 20 years ago, the Dark Earth is a bizarre, unsettling, and wondrous place that pulls a lot of inspiration from the classic fantasy works of authors like Jack Vance and Michael Moorcock. The RPG never quite came together in playable form, but I always kept the setting in the back of my mind over the years. When I decided to write a book that my daughter would enjoy (she was 12 when I started on it), I pulled out my sizable stack of notes and descriptions for the Dark Earth and reworked a few things to create an ideal context for a group of young protagonists setting out on a journey that will change their lives forever.
I'll talk a bit more about CotDE in the next few weeks (including a preview), but for now I'll leave you with the description from the back cover:
Tavik lived a perfectly ordinary life in his perfectly ordinary village…until his hair turned into snakes and a monster made of metal and flesh burned his world to ashes. Rescued by the Fay of the Unseelie Court, Tavik learns that he is a changeling, one of many faerie children in human form scattered across the war-torn remnants of the Dark Earth. As he meets others like himself, they are drawn into the longstanding dispute between the Seelie and Unseelie Courts. But that ancient rivalry may well blind them all from a far greater threat: a ruthless army of cybernetic Fay outcasts bent upon enslaving every changeling they can find.
Be sure to sign up for my author newsletter for the latest updates and announcements. I'm looking forward to sharing the world of the Dark Earth with everyone in the coming weeks!